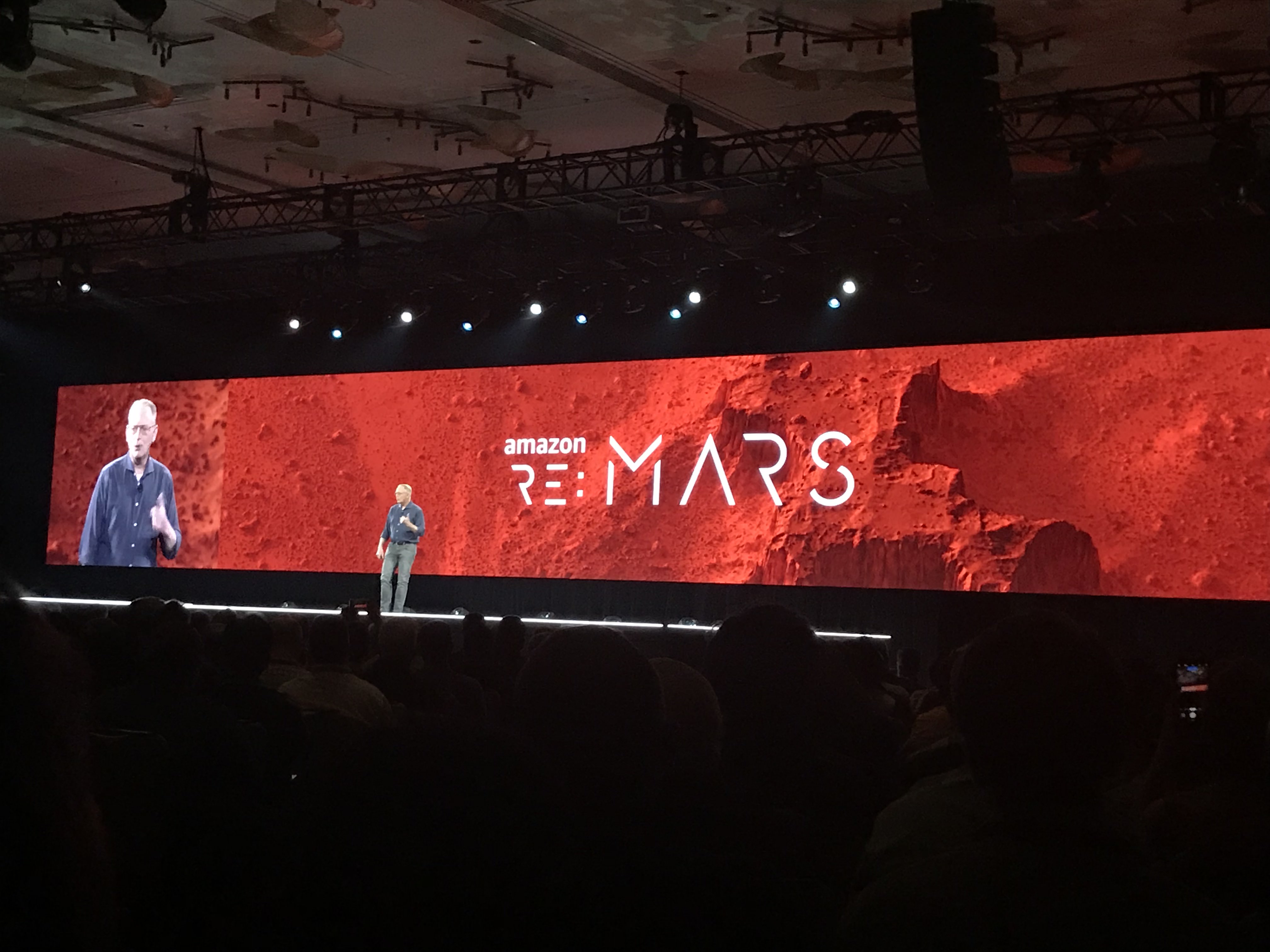 Amazon Sets the Bar for AI at re:MARS
Author:
Gennady Galanter, CEO

When landing at MARS, you immediately recognize that the age of AI is here. Once Jeff Bezos' inaugural private party, the new Amazon's re:MARS (Machine Learning, Automation, Robotics, and Space) is set to become the world's major event on AI and Machine Learning technologies for industrial application.
The invite-only re:MARS brought together seven thousand business leaders and IT professionals to touch base with the world's leading experts on AI, ML, Robotics and Space, and to learn how to leverage AI for their enterprise.
Provectus too took part in the event to showcase our capabilities in developing industrial AI solutions.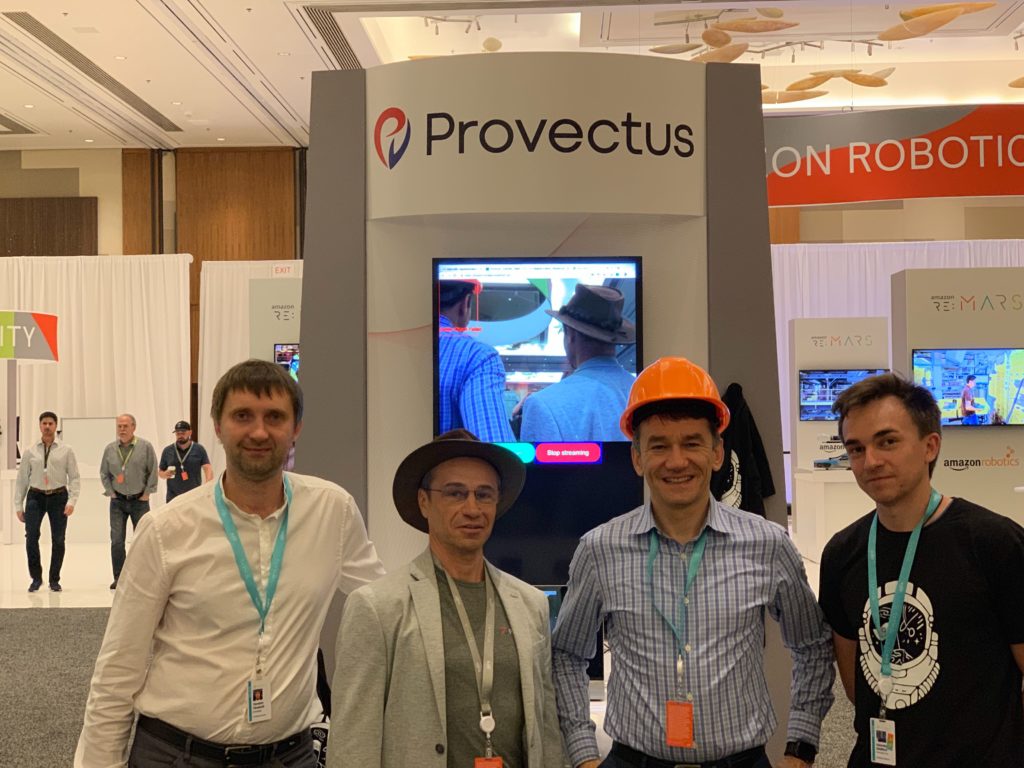 Our booth demo attracted those who sought new ways to make the lives of their employees safer and more productive. We demonstrated that AI could be trained to recognize whether a worker at a construction site wears a hard hat. We originally developed this demo for a prospect to illustrate our ability to recognize if the worker is compliant with PPE guidelines.
Now imagine that instead of visually recognizing PPE compliance, we could train AI to visually inspect complex industrial sites and settings. What if we were able to put a function-aware AI onto an autonomous platform and send it down the aisles of a chemical plant being built for inspection? A platform as such would inspect and report construction in progress, alert about exceptions, both during construction and operations, effectively serving as a structure and process engineer. As a result, it would improve safety, reduce employer liability, drive down operating costs, and save lives.
A fascinating range of AI applications was presented in the diverse fields of life sciences, healthcare, and bioengineering as well. Provectus CTO Stepan Pushkarev jointly with our partner, Jochen Kumm from Pr3vent, presented our AI solution for early detection and prevention of vision impairment in newborns. We're helping Pr3vent to receive FDA approval for their solution that scans newborn retina to detect pathology and predict vision loss in adults. Scientists discovered the correlation between your retina image and vision impairment, whether existing or potential. When treated in infancy, up to 97% of these conditions could be prevented in adulthood. If approved, our solution would scale this unique expertise in the US and globally.
The A-list keynote speakers of the re:MARS would make any Tech Industry event envious. It featured keynotes and fascinating talks by Robert Downey Jr, Andrew Ng, Kate Darling, Andrew Lo, Jeff Wilke, Colin Angle, and Jeff Bezos himself, among others. This list of speakers says that Amazon is setting the bar not only for how an event should be run, but also for the entire field of AI.
Keep up with today's keynote with our live #reMARS blog: https://t.co/CistbVEdso pic.twitter.com/jJ2bFDiFok

— Amazon re:MARS (@AmazonreMARS) June 6, 2019
In the past ten years, Amazon has grown its AWS business manyfold. Through this period, the company's primary focus has been on infrastructure, data, and application migration to the cloud, generating value from utility-like services. However, the customer focus has been shifting lately, at least in larger enterprises. They do have the data, and they now aspire to use this data for Machine Learning to drive their AI solutions.
Meanwhile, Amazon itself views AI solutions built on its AWS platform as a critical competitive differentiator against other cloud vendors. In that, AWS relies on its partner ecosystem to develop and to evangelize AI solutions for various industry settings and use cases.
However, at this time, the AI Solutions industry for enterprise is highly fragmented, and the leader is yet to emerge. Although there aren't many out-of-the-box solutions for many of the industry segments, there are some solutions for some industry use cases.
Being one of Amazon's top partners who specializes in AI, ML and Big Data, Provectus is well-positioned to take advantage of these market dynamics.
Time and time again, we hear from AWS, "We respect partners who chart their own path in the market, those who nurture partnerships and create an ecosystem with benefits for all parties."
We respect partners who chart their own path in the market, those who nurture partnerships and create an ecosystem with benefits for all parties.
The essence of Provectus' strategy is based on combining a management consulting approach, AI best practices, and industry specialties. We help small- and medium-sized companies with sufficient data to take advantage of AI-powered solutions, and to gain a competitive edge in their respective markets.
We're grateful to our partner, Amazon, for putting together such a high-quality event that has brought together tech luminaries, AI experts, and business leaders. It was rich on insights and helped every attendee, including the team of Provectus, to learn, share ideas and opinions, as well as educate others.
About re:MARS
Amazon's re:MARS Conference is a new global AI event on Machine Learning, Automation, Robotics, and Space hosted by Amazon CEO and Founder Jeff Bezos in an effort to help companies apply the latest AI tech in business and work.
About Provectus
Provectus is an Artificial Intelligence consultancy and solutions provider helping businesses achieve their objectives through AI.
By Gennady Galanter