Provectus Managed Services
Reinvent your IT operations, optimize and secure your technology infrastructure, and achieve operational excellence on AWS with 24/7 expert managed services
Drive growth and innovation for your business on AWS
Amid increasing competitive pressures, businesses today cannot waste the resources of their IT departments to handle routine operational tasks and manage AWS, or other cloud, environments.
With Provectus Managed Services, you can rest assured that your cloud environments are safe, secure, and optimized for cost-efficiency and compliance. Get 24/7 engineering support by our AWS-certified team, to stay focused on your core business operations!
Achieve Your Strategic Goals with Provectus Managed Services
Align internal and external resources to eliminate redundancies and minimize risks in day-to-day IT operations
Reduce labor and IT costs by moving away from a capital expense model and freeing up the resources of your engineering teams
Enhance IT security with 24/7 monitoring and protection of your networks, data, infrastructure, and other components of the AWS environment
Stay focused on your core business operations by eliminating the complexities of cloud environments
Provectus Offerings
Managed DevOps
Full coverage of DevOps responsibilities within your organization, from infrastructure provisioning to SRE
Cloud Infrastructure
Releases (CI/CD)
Production Support
Managed Data
Сloud-first data platform with a data lake ecosystem and data pipelines
for advanced analytics & BI
Data Platform
Data Pipelines
Business Intelligence
Managed AI
Managed MLOps platform for Data Scientists and ML Engineers or a fully managed end-to-end AI Solution.
Managed MLOps
Managed Models
Managed AI Solution
How It Works
Provectus Managed Services can be provided as a customized or packaged* solution. Regardless of the chosen model, we start with a discovery workshop. Based on its results, we move forward with the pilot, scale, and managed solution phases.
*Covers the roadmap for all phases and provides up to 24/7 SLAs for the service
The quality of Provectus Managed Services is determined by assessing such metrics as:
Time to Resolution
Time to First Response
Percentage of Resolved Tickets
Application Uptime
CI/CD Infra Success Rate
Infrastructure Uptime
Add your metric here
Supported Tech Stack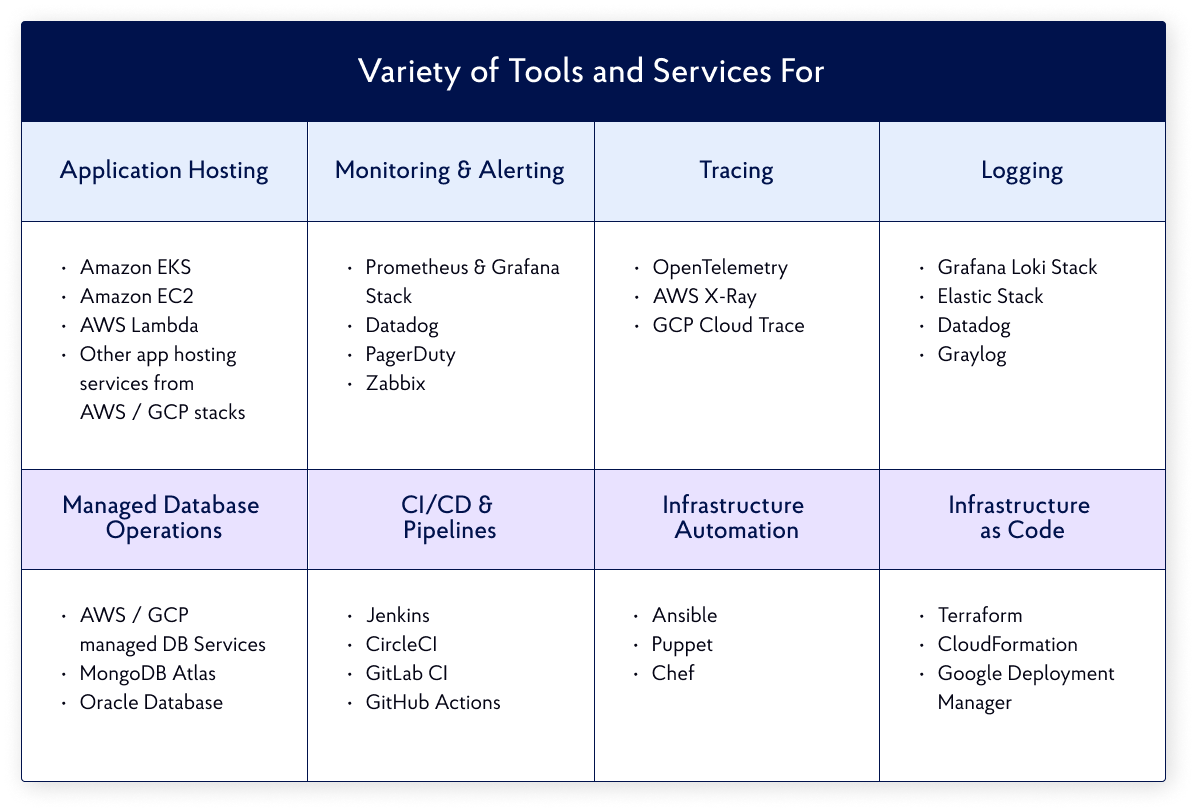 Methods & Approaches
Continuous Integration (CI)
Containerization
Continuous Deployment (CD)
Serverless Computing
Continuous Testing (CT)
24/7 Monitoring & Support
Challenges that Provectus Helps You Resolve
Proactive management of operational risks in a complex regulatory and compliance environment
Quick access to the right combination of technical, operational, and strategic capabilities
Business cost-efficiency achieved through the latest technologies and industry-leading strategies
At-scale growth and agility, delivered by a dedicated team of AWS-certified engineers
Get Started Today
Reach out to the Provectus team directly, or continue with Provectus Managed Services at the AWS Marketplace!